This Brazilian journalist, screenwriter, and illustrator is a master of visual storytelling who needs no words to create a moving story that everyone will understand and feel. We previously presented Ademar Vieira's comics twice, full of emotion. We feature the artist's work with a viral comic called "The Choice" that shows what life looks like when deciding to have a dog compared to not having one and share more of Vieira's best comics that explore different themes, from pandemic to parenting.
This time, Vieira has illustrated a true story about the adoption of a kitten that he at first did not think he needed, dedicated to all cat lovers, called "The Cat". The heartwarming story shows how healthy life with a cat can be and asks who rescues who, after all. People save pets when they most need a loving home without realizing that pets save them too.
Credit: Instagram | Facebook | twitter.com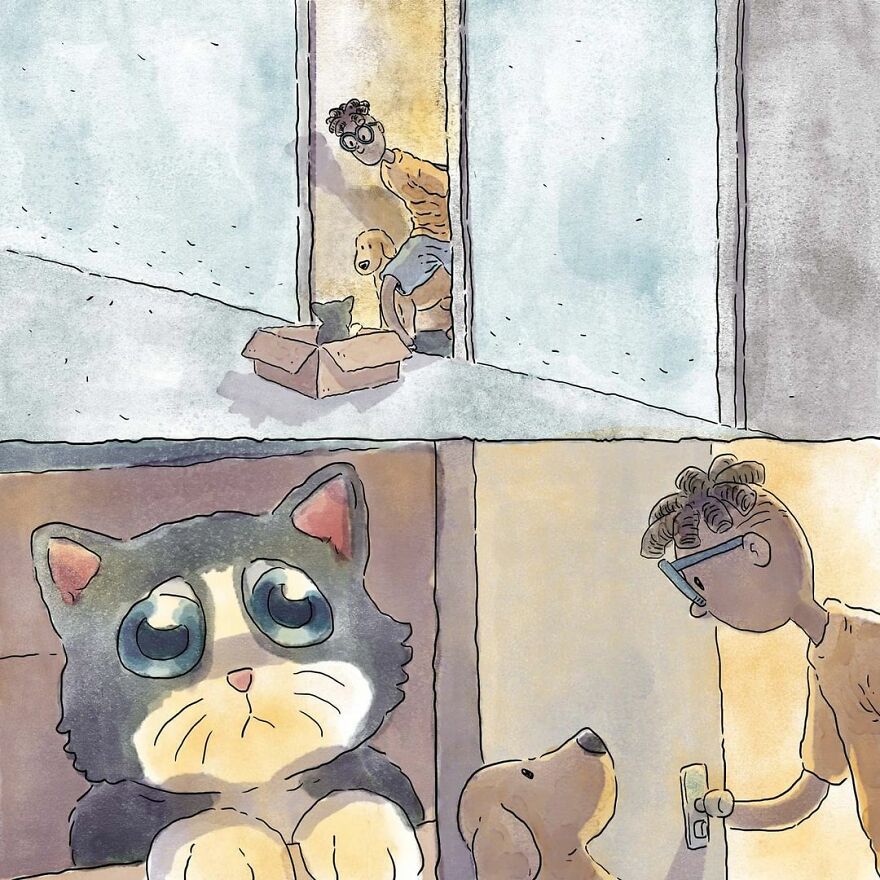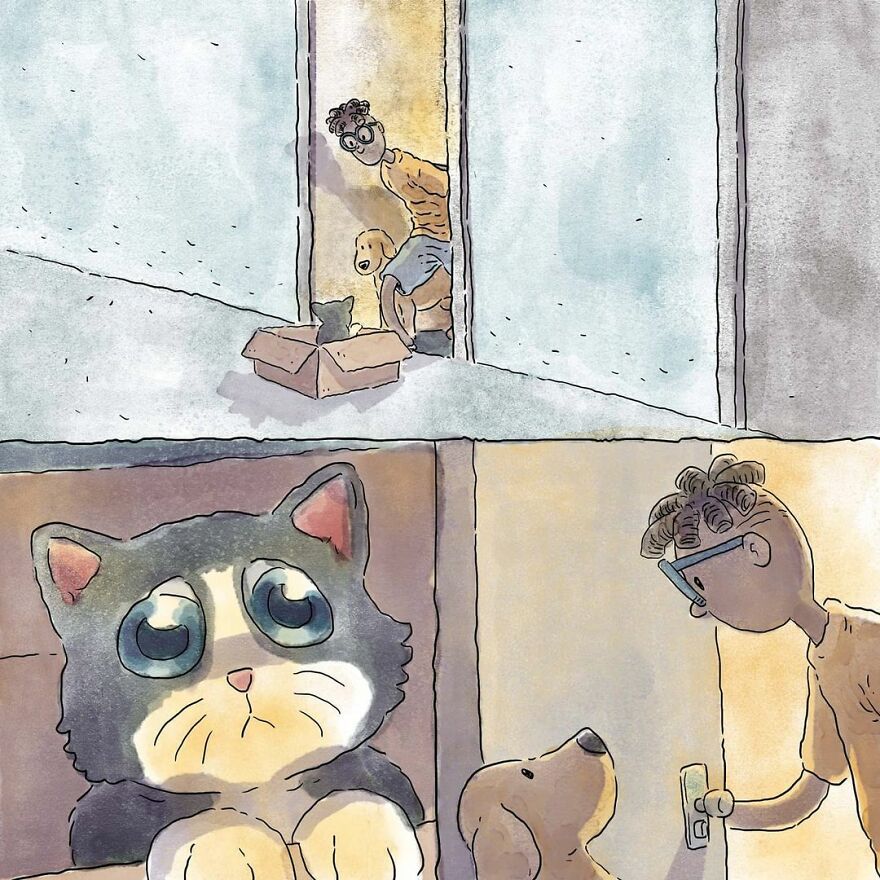 When I was living alone, one day a kitten appeared at the door of my apartment. I started feeding her but didn't want to adopt her. She was waiting for one of her neighbors to adopt her, but that didn't happen. Every time she came home, she was upfront, waiting for some milk and a hug. Until one day I arrived and she was not in her usual place. Several days passed without seeing her. I was afraid something terrible had happened to her, so when she reappeared, I adopted her. It was a relief and a joy.
Vieira said that he had never imagined that he would end up being a feline father.
"When I was younger, I couldn't imagine having a cat as a pet. I lived alone and thought that my lifestyle would not allow me to have a cat. Turns out she chose me anyway, "he says.
However, after a while, he probably can't imagine not having a cat next to him.
"We played a lot and I had fun watching how she used the spaces in the house and she tried to have fun alone. Over time, I realized how much I cared for her as if I were a member of her family.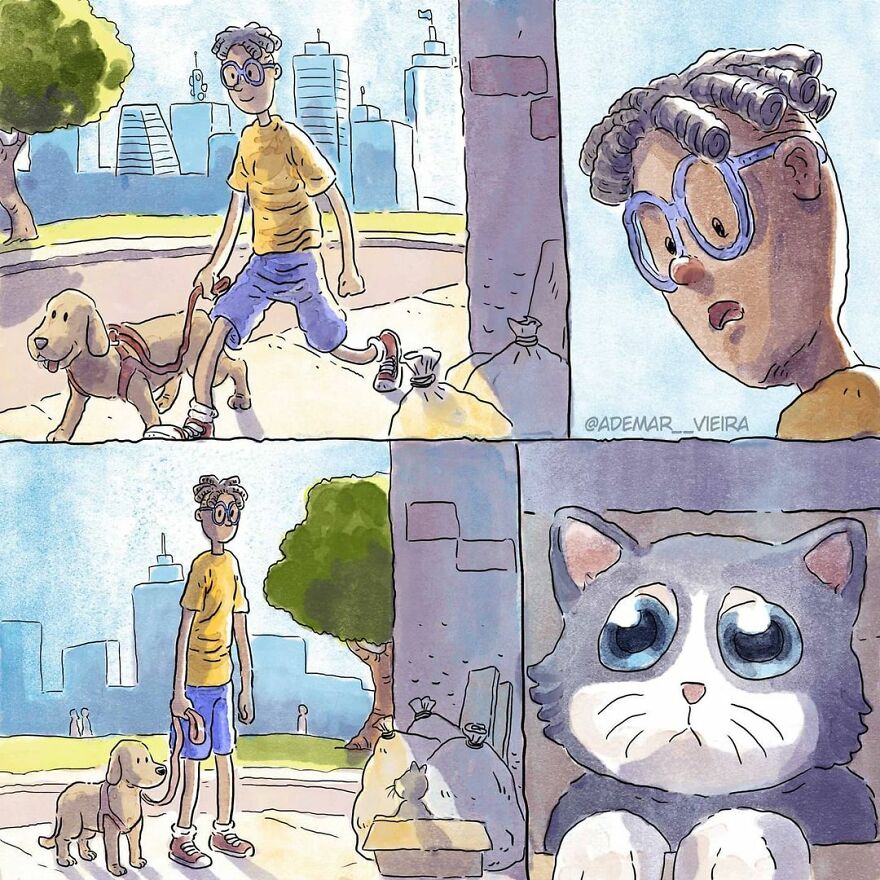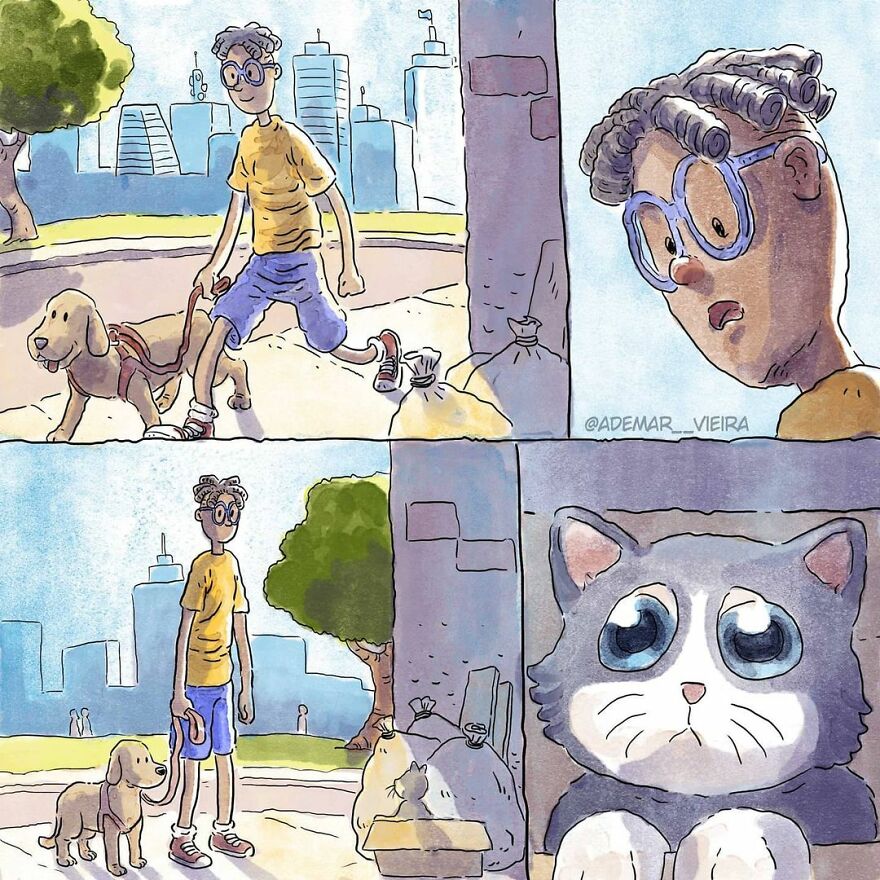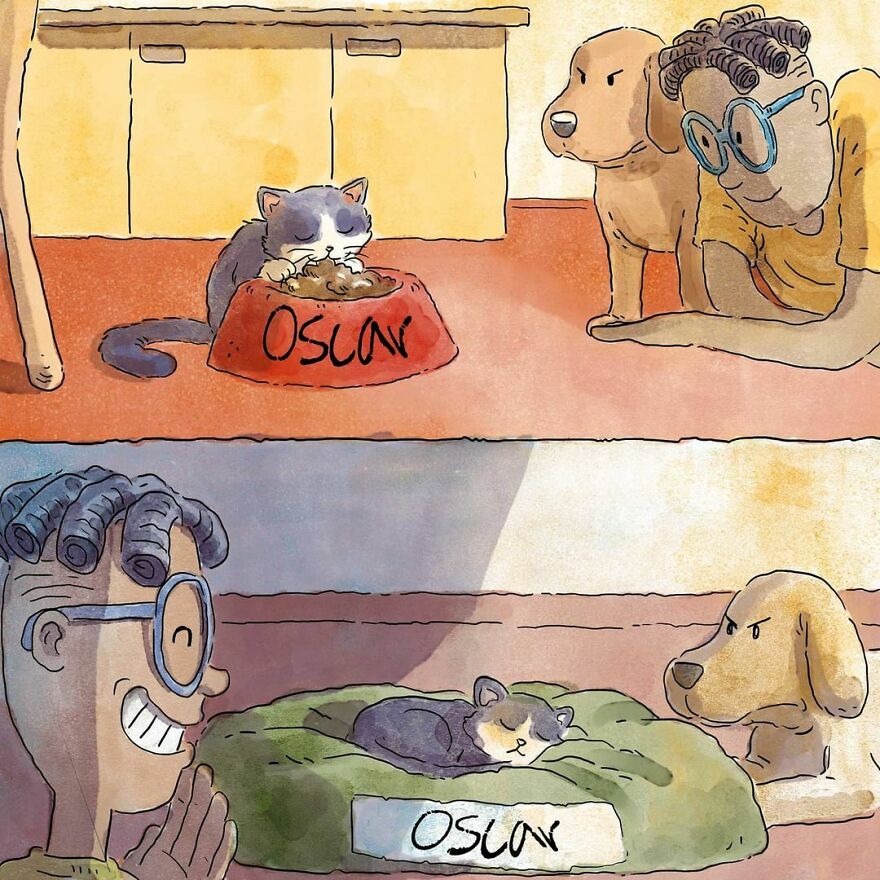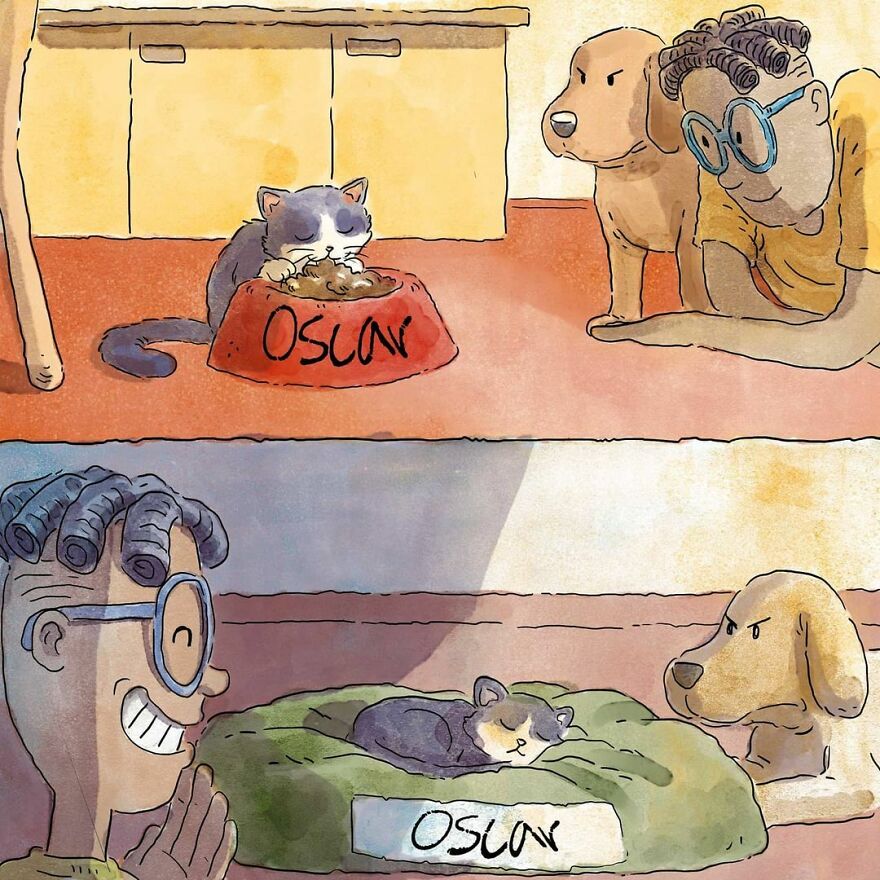 We asked Vieira to tell us more about the cat she rescued and that inspired the comic:
"' Gata-fera ', which can be translated into English as' Wild Cat ', has a very strong personality. She only receives affection when she wants and is capable of biting or scratching anyone who tries to hug her when she doesn't want to be hugged. She spends most of her time looking for unusual places to sleep and loves to hunt and chase dogs around the house. On the other hand, she can also be very sweet when she wants to.
He says that the message he wanted to spread with this comic is that "sometimes we adopt a pet because we find it in a difficult situation and we think we will be helping them, but over time we realize that they are the ones helping us. U.S. We rescued them at that time, but they end up rescuing us every day.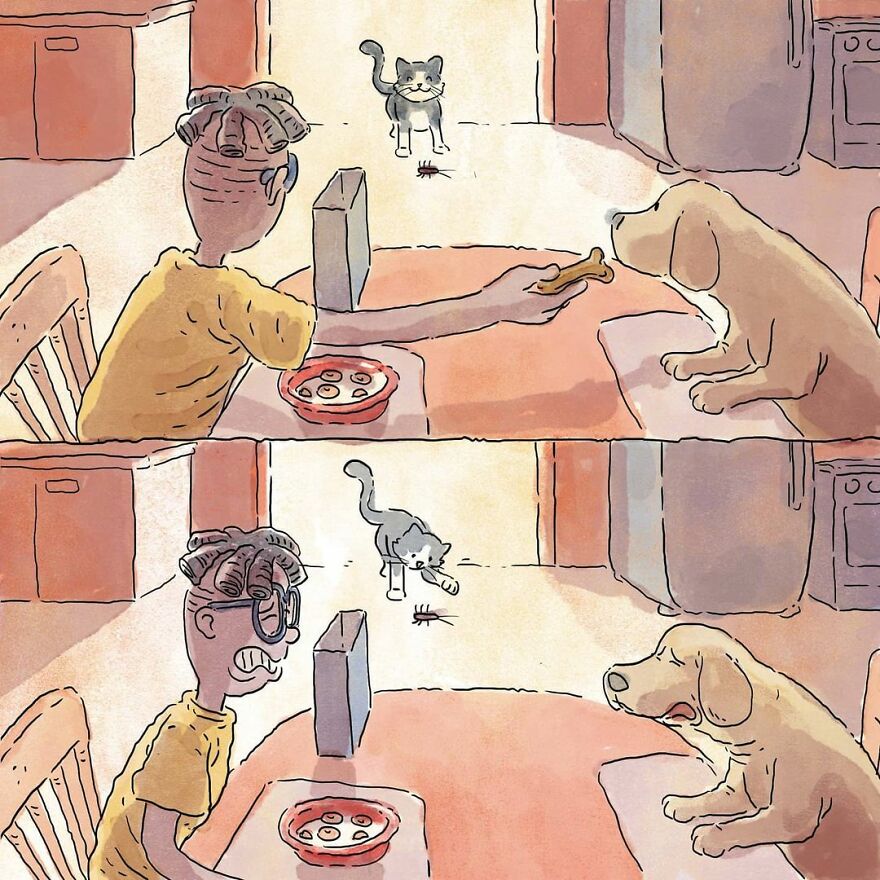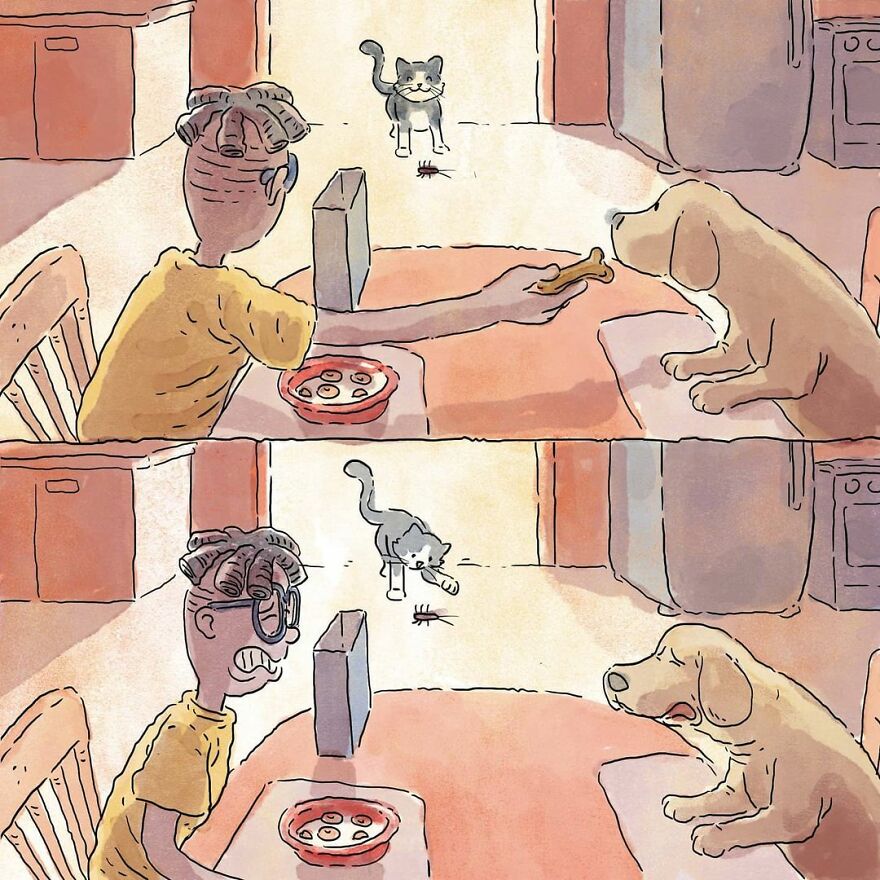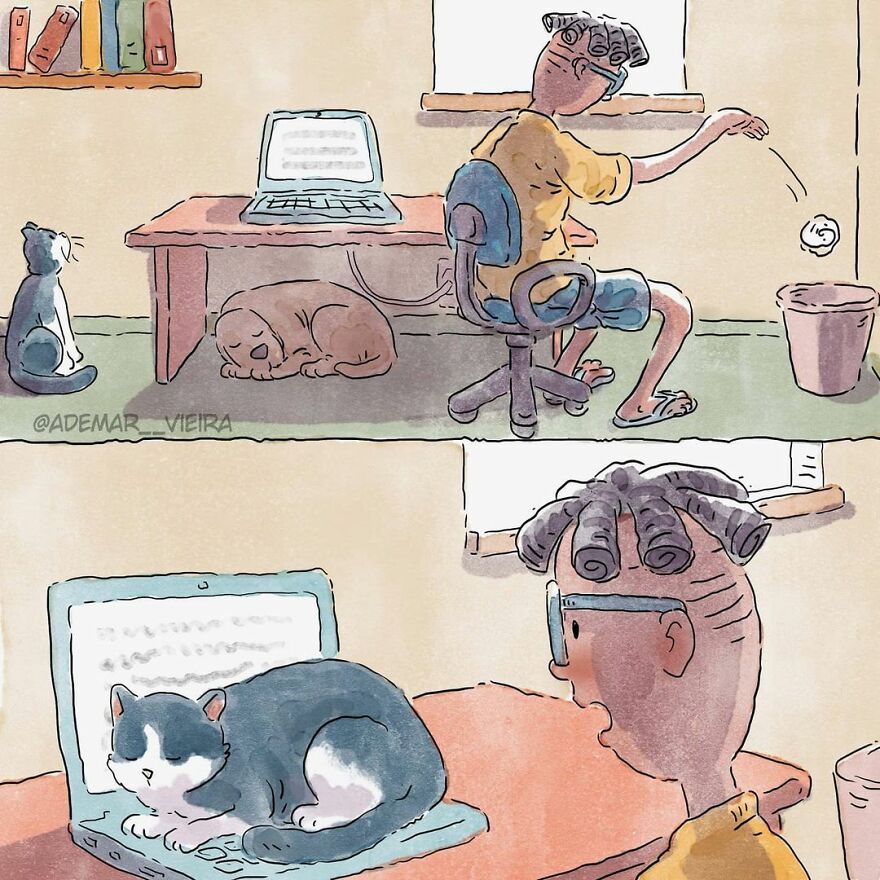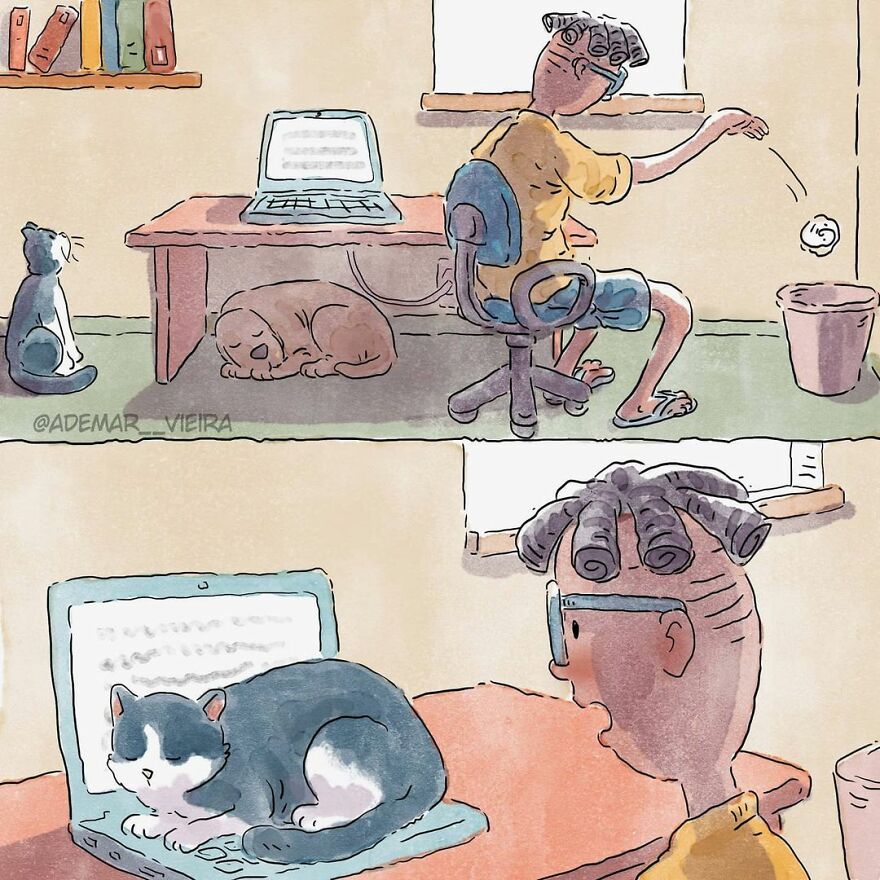 I think that people who live with animals understand better than most that humans are not the owners of the planet, we are just another tenant like all animals. We are responsible for this planet and the impact we cause, and we must take better care of this world so that all living things can have the opportunity to have a good life. To avoid the extinction of other species is to avoid our own extinction.
We dig deeper and explore what Vieira's art is all about. He stands out not only for his artistic abilities but for the ability to tell emotional stories without using a single word. My comics are unconventional like most, with three drawings and balloons. They are more like short films that tell stories about life, loaded with emotion, criticism and some twists and turns.
The artist explained how his idea of comics without dialogue came about: My mother tongue is Portuguese and my intention was to make strips in Portuguese, but trying to use as little dialogue as possible. I managed to do some without dialogue and one of them went viral in several countries. From then on, I realized that it was a path of no return and began to use the format without dialogue as my signature style in comics.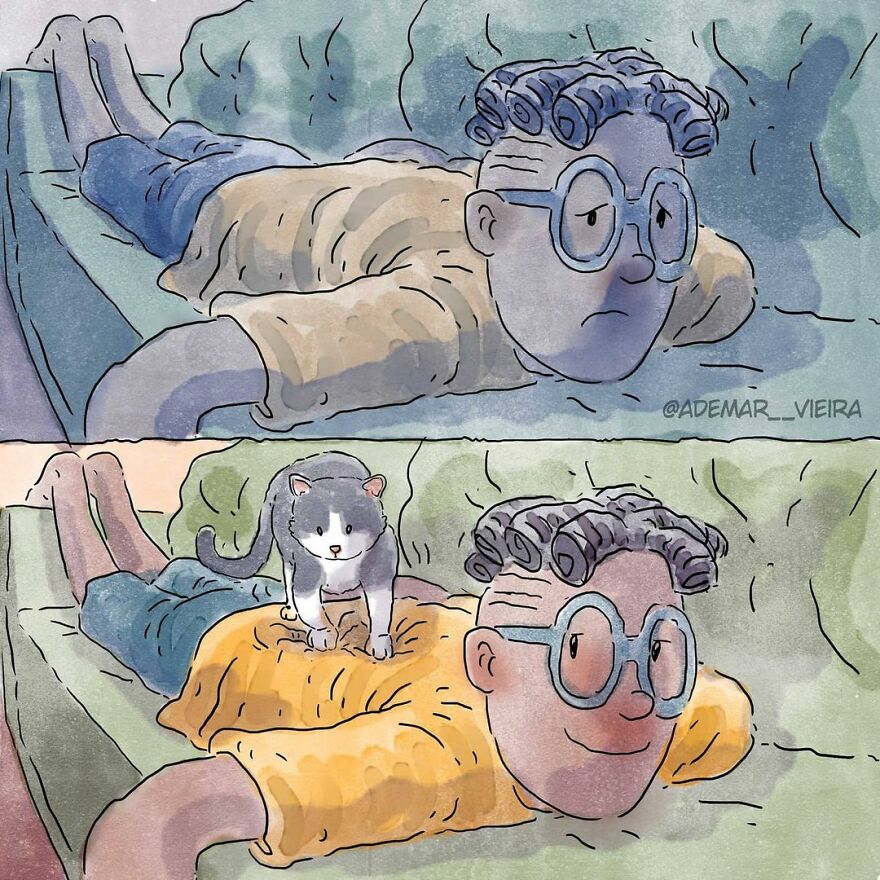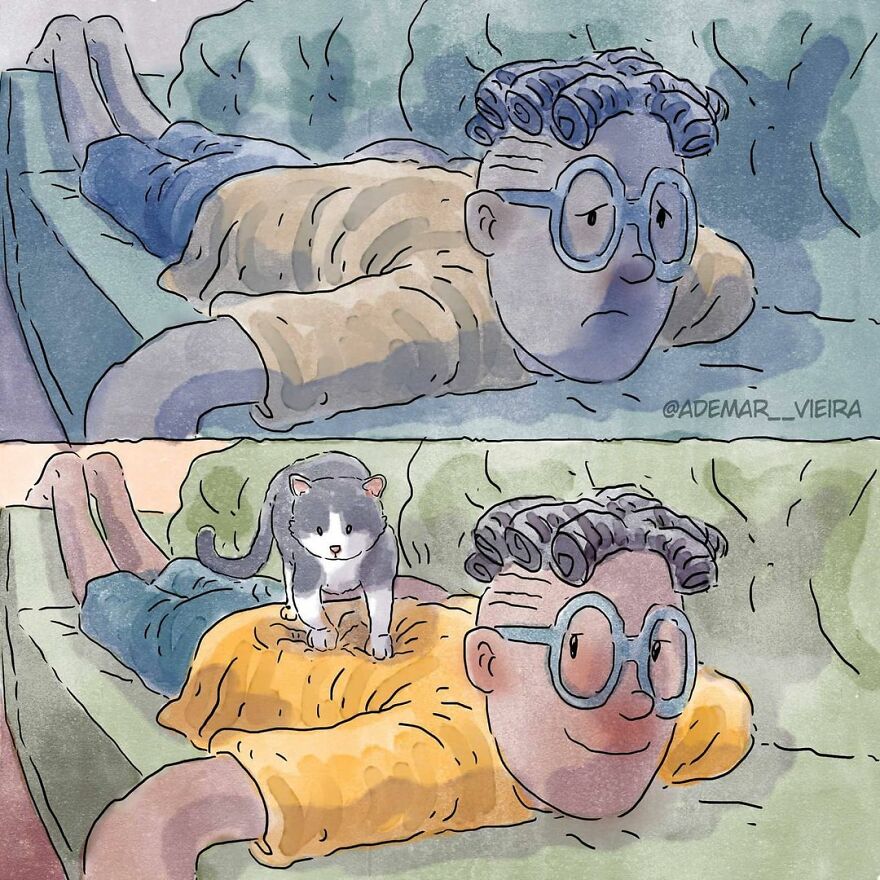 The raw material of my stories is life, said the artist when asked about his inspirations. "Some are things that I experienced, others are the result of observing the world around me. What inspires me are the topics that I find myself talking about or thinking about. Some of these issues are opinions, points of view or things that in some way bother me, such as social inequality and all the bad things that it entails.