There are people who believe that learning art history is only for artists, critics, and other workers in that field. However, this illustrator believes that it is important for everyone to learn about it. To demonstrate this, artist and graphic designer Carlos Gromo have created a collection of Disney characters inspired by famous paintings, to help people better memorize these classics. Here you can read an interview with him!
More information at Instagram | Facebook | Etsy
#1 Sleeping Beauty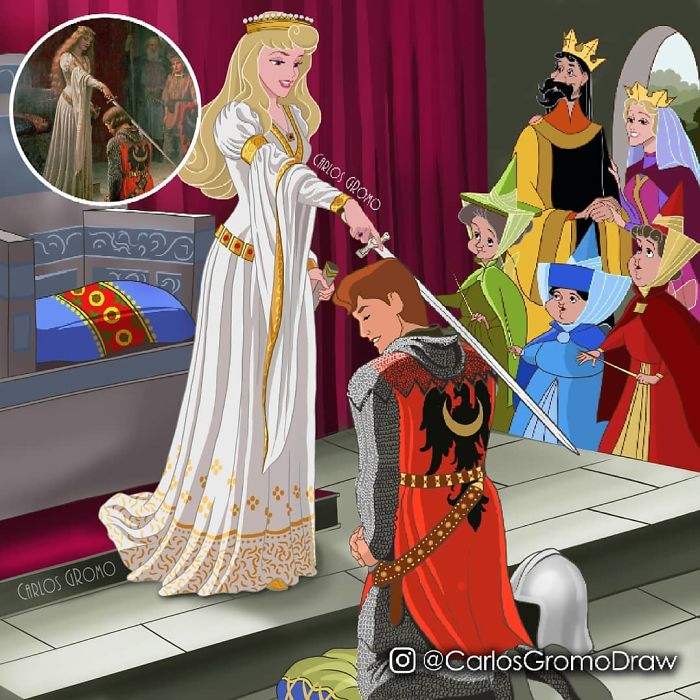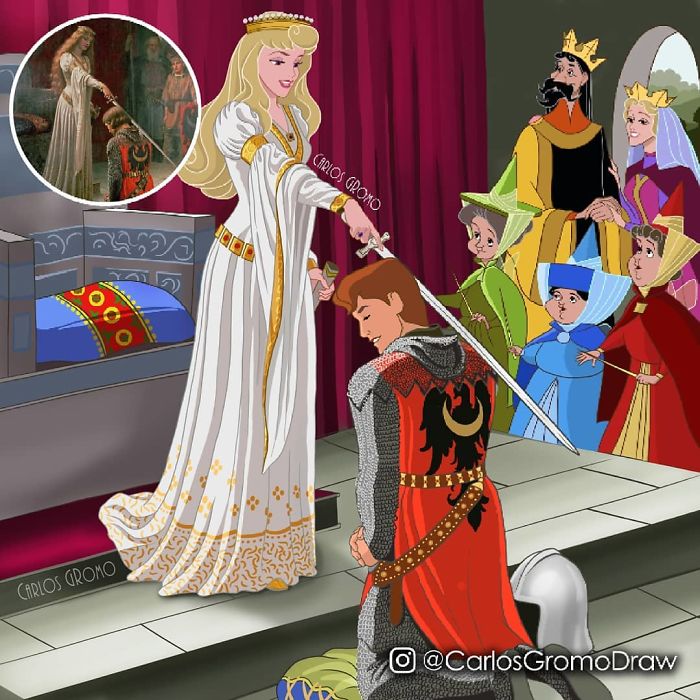 Based on "The Investiture" by Edmund Blair Leighton (1901)
#2 Beauty and the Beast
Based on "The Soul of the Rose" by John William Waterhouse (1908)
The artist, "carlosgromodraw" for his 31,000 followers on Instagram, started this project in 2019 when he finished his studies in Fine Arts. He saw that many people did not know much about art history or famous paintings, so he started the project looking to educate in a fun way. The good news is that it has been very successful, so hopefully people will have learned something about classical art.
#3 Hercules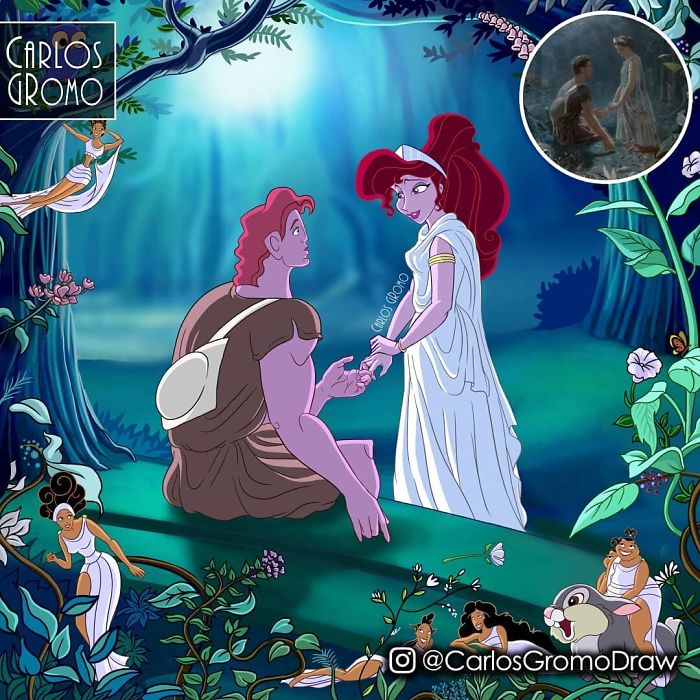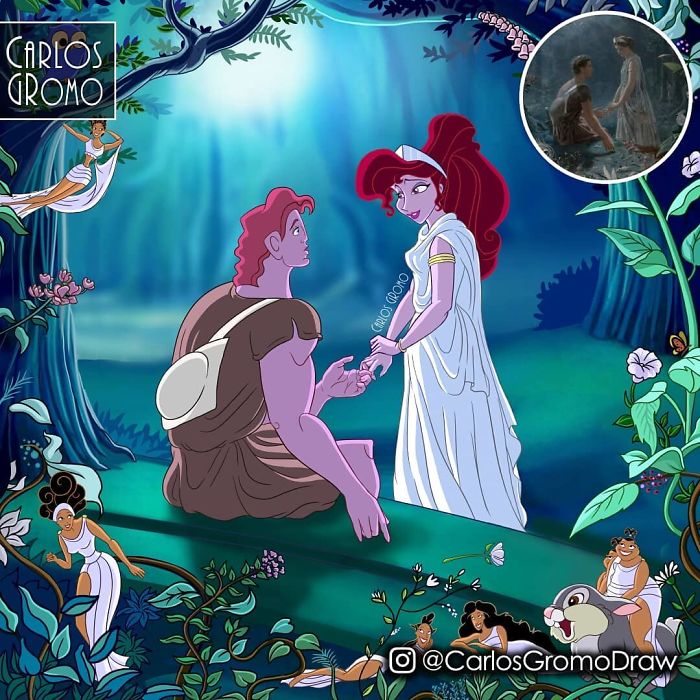 Based on John Simmons' "Midsummer Night's Dream" (1870)
#4 Beauty and the Beast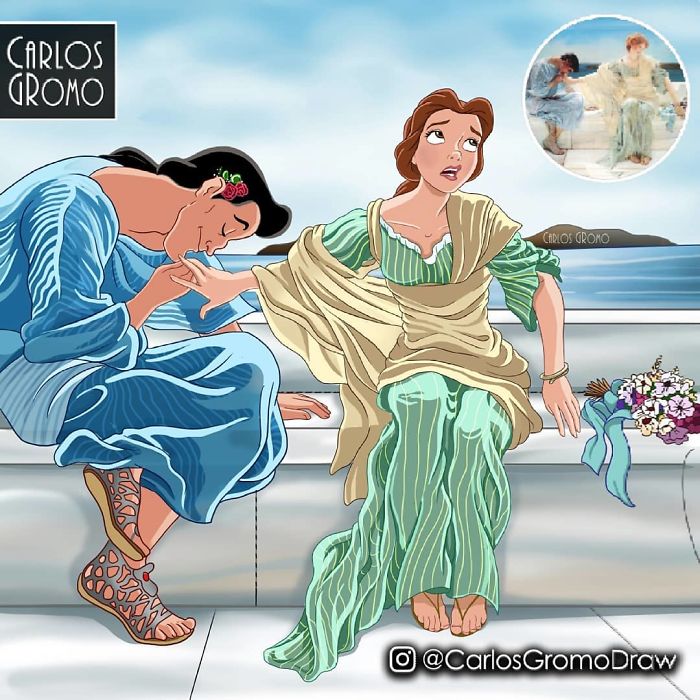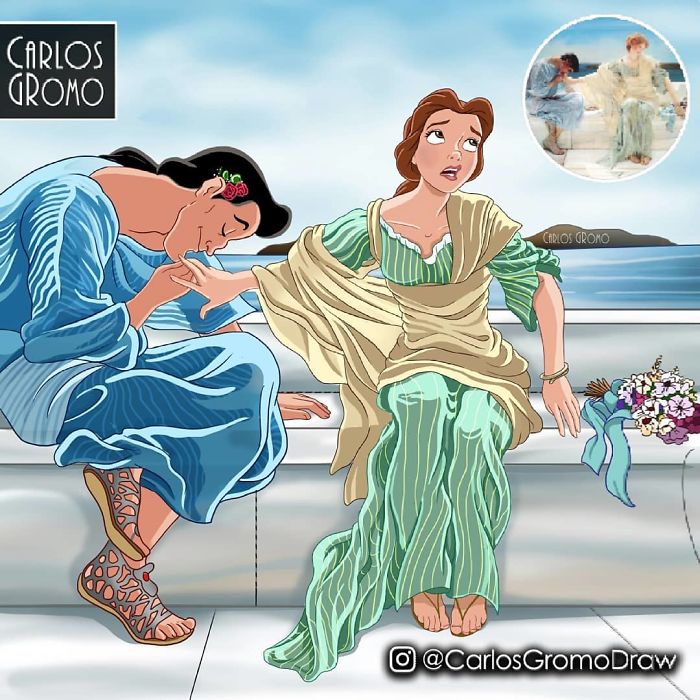 Based on "Don't ask me anymore" by Lawrence Alma Tadema (1906)
This project started because, when I finished my Fine Arts degree at university, I realized that many people did not know famous paintings, and I thought that I could present them in a more original way. I have always liked to draw Disney, so I had the idea of ​​starting this project by drawing the characters from the films in those images of art history. In this way I managed to give visibility to many works of art and artists from different periods said Carlos.
#5 Peter Pan
Based on The Storm by Pierre Auguste Cot (1880)
#6 Cinderella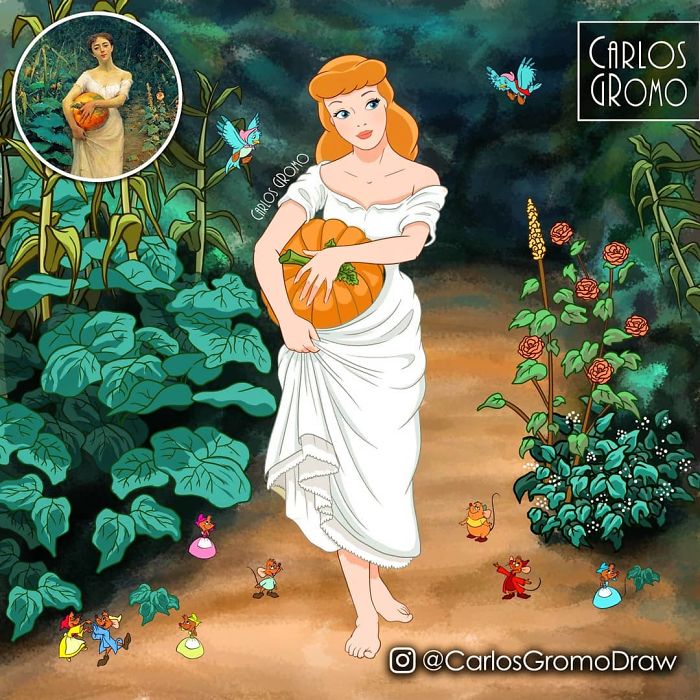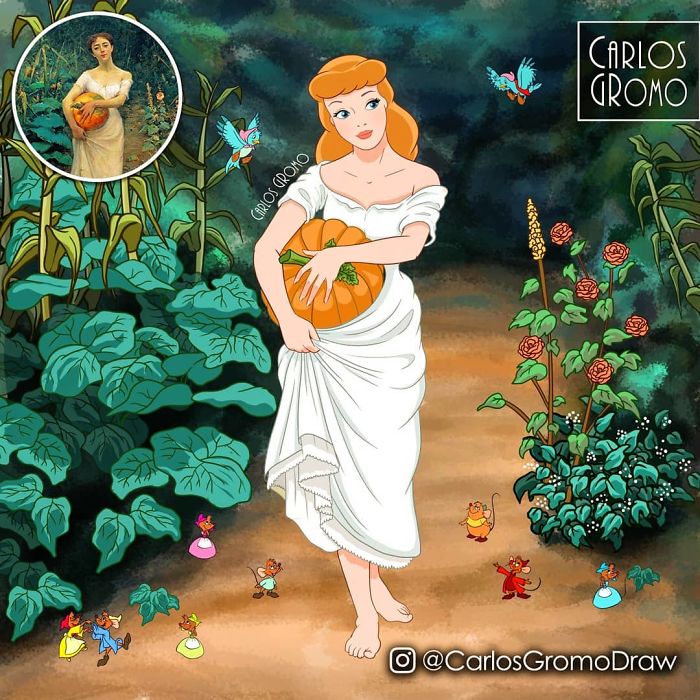 Based on "Young man carrying a pumpkin" by Fausto Zonaro (1889)
What I take depends on the complexity of the illustration that I am going to do. There are illustrations that I can do in three days, and on the other hand, some take me several weeks, or even a month, because they are very complex and I have to do them with calm to get the best result. "
It takes me some time to decide, since I do a lot of research in books or the internet to have a variety of proposals, and then I choose the one that seems most interesting to me. This is due to the resemblance of the character to that of the painting or its theme
#7 Tiana and the frog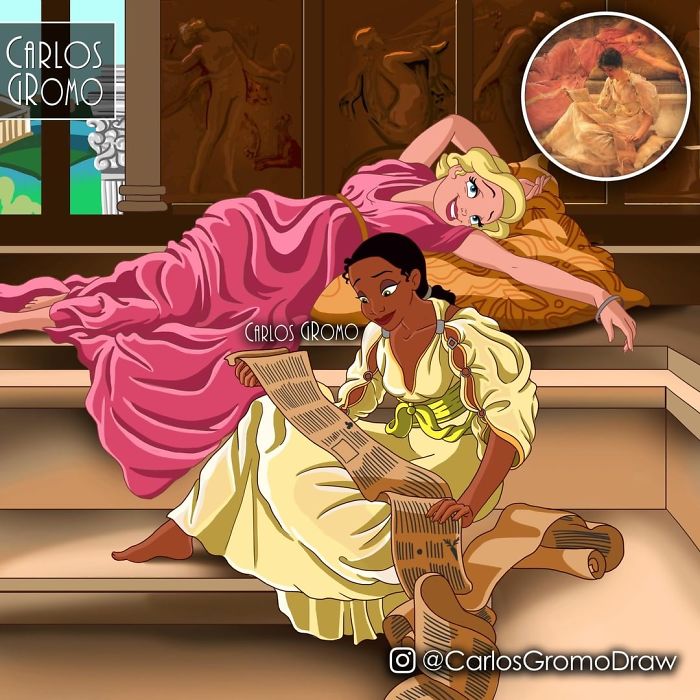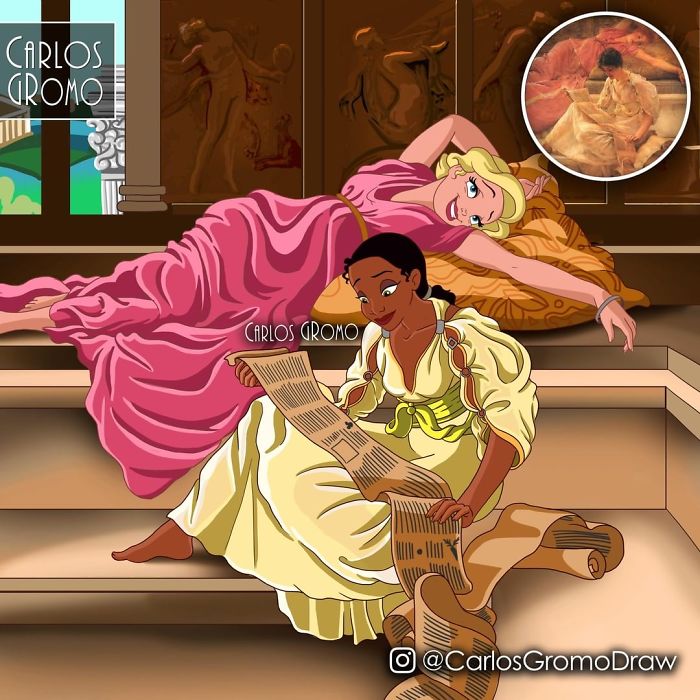 Based on Lawrence Alma Tadema's The Favorite Poet (1888)
#8 The Little Mermaid
Based on The Mermaid by John William Waterhouse (1900)
I spend a lot of time making different sketches for the composition, to have a first contact with what it could be when it is finished. I work on the lights, shadows, and lines schematically and without details, to see if the idea is good or if, on the contrary, I have to modify something before starting the final work. I think the best thing is when I have finished the lines of the work and start coloring because that is when you already feel that the illustration changes completely.
#9 The Little Mermaid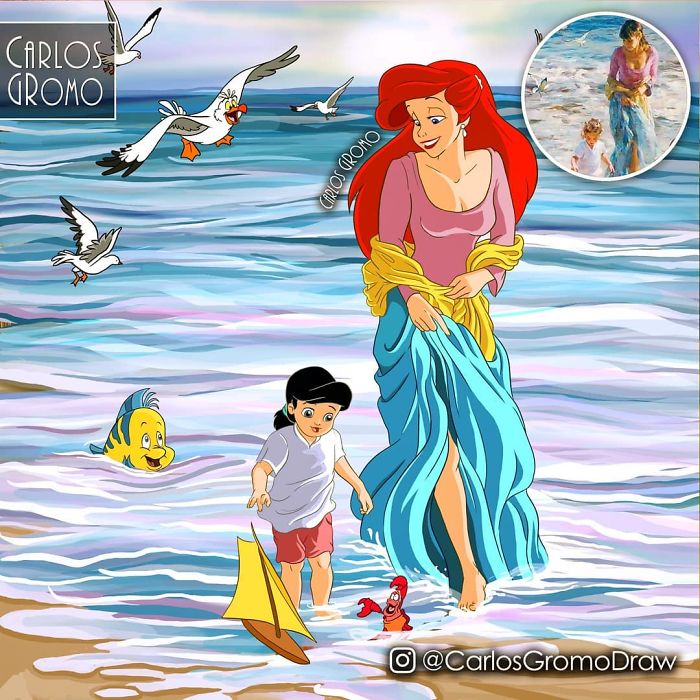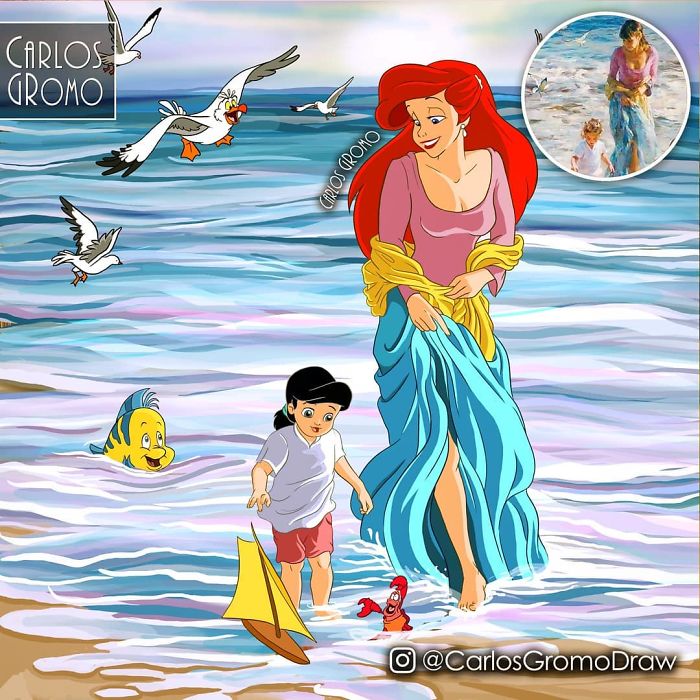 Based on Precious Moments by Michael & Inessa Garmash
#10 Snow White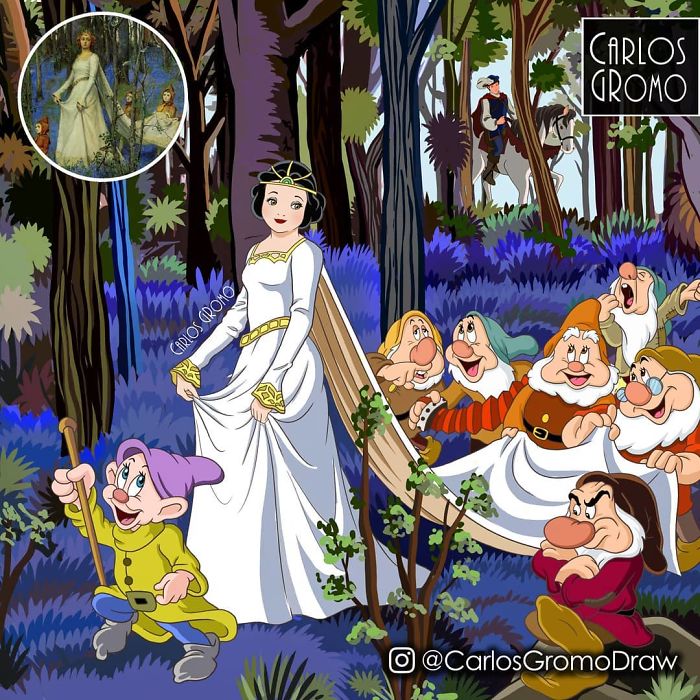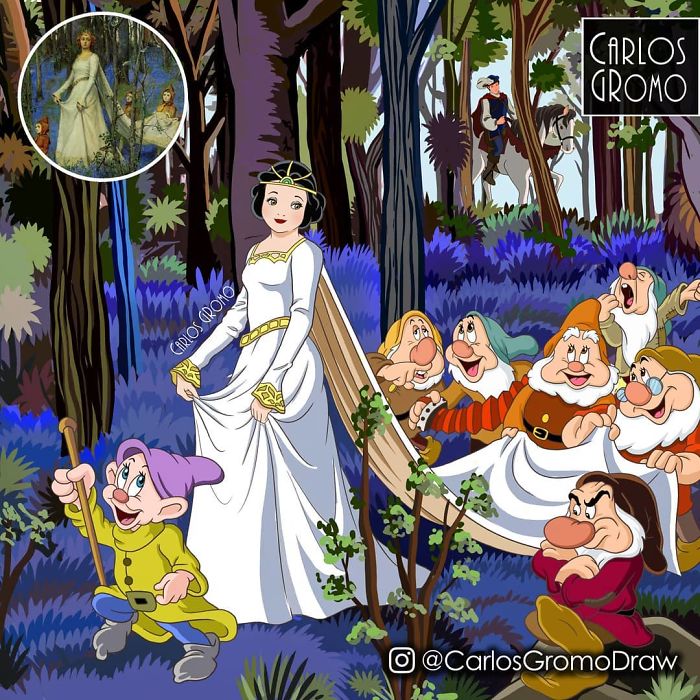 Based on "The Forest Fairy" by Henry Meynell Rheam (1903)
#11 Cinderella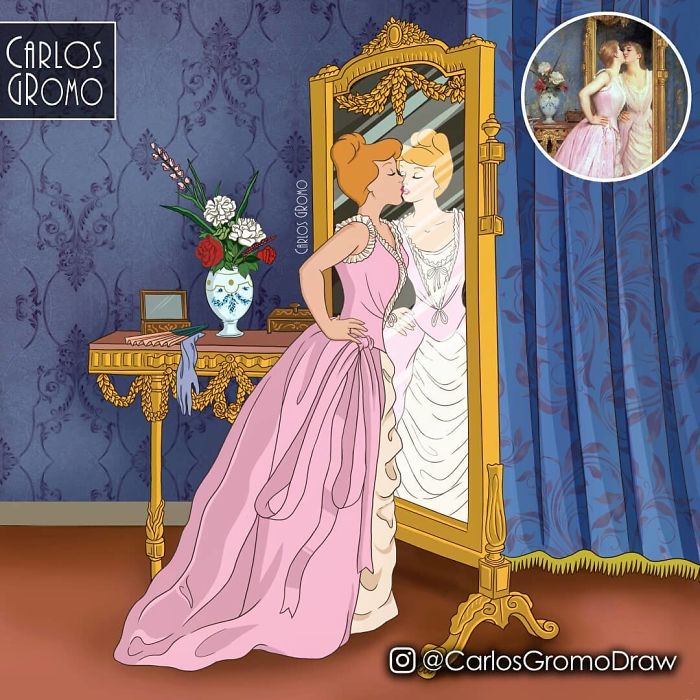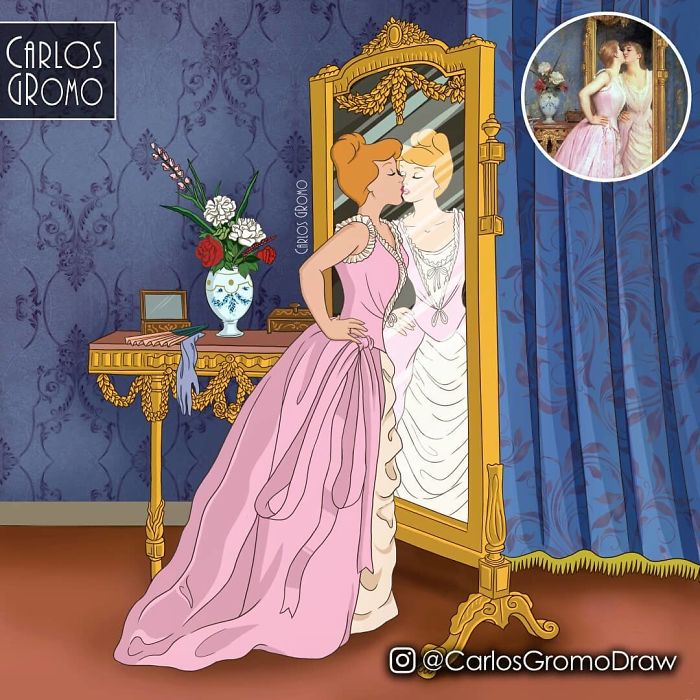 Based on Auguste Toulmouche's "Vanity" (1870)
#12 Thumbelina
Based on "Spring" by Pierre Auguste Cot (1873)
#13 Snow White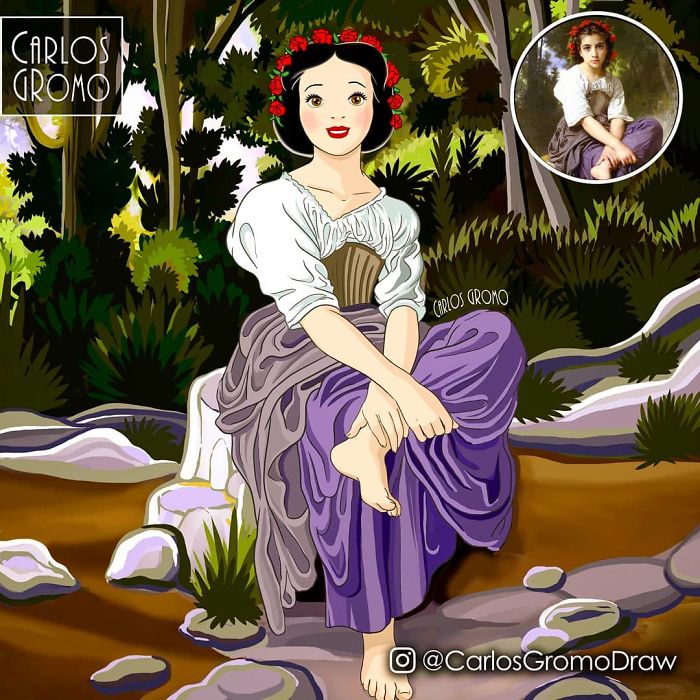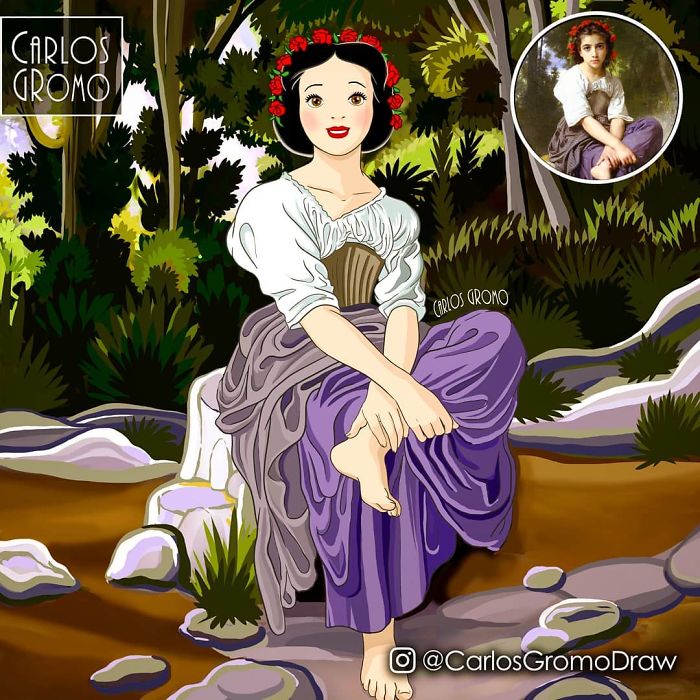 Based on "On the Edge of the Stream" by William Adolphe Bouguereau (1875)
#14 Peter Pan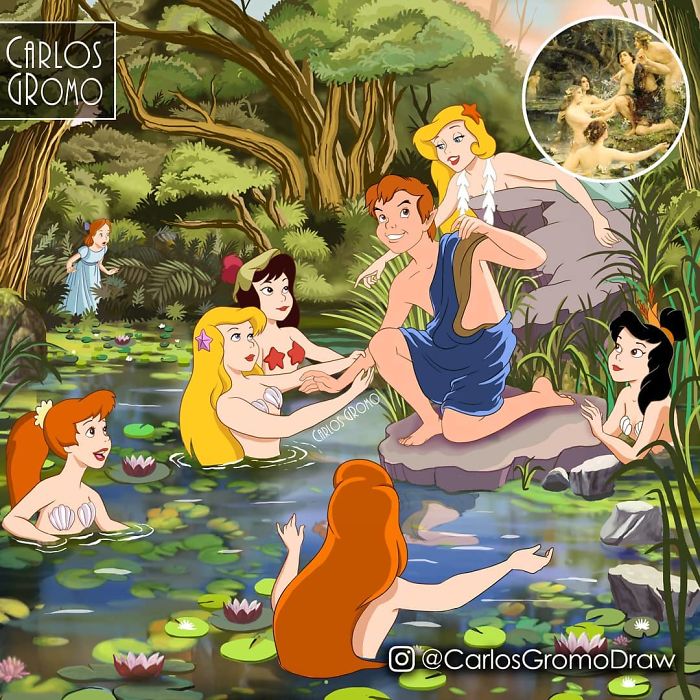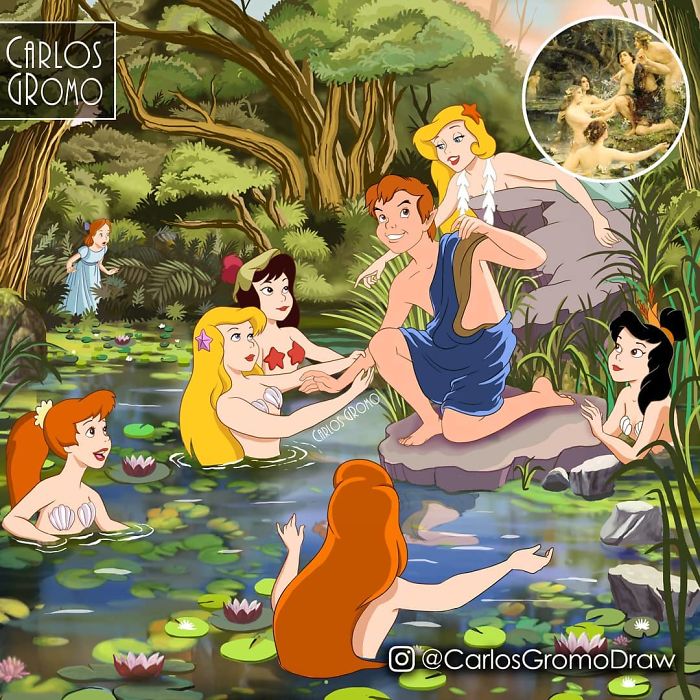 Based on "Hylas and the Water Nymphs" by Henrietta Rae (1910)
#15 Cinderella
Based on: "Rest During Harvest" by William Adolphe Bouguereau (1865)
#16 Tarzan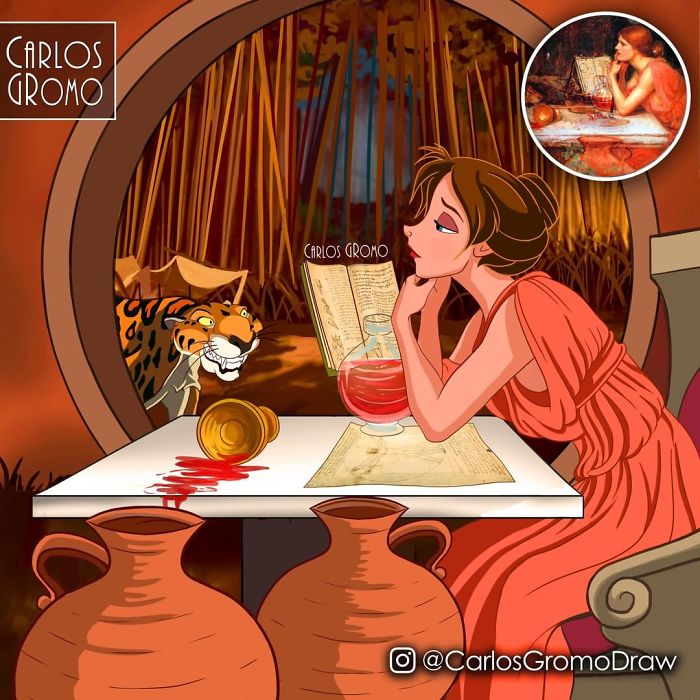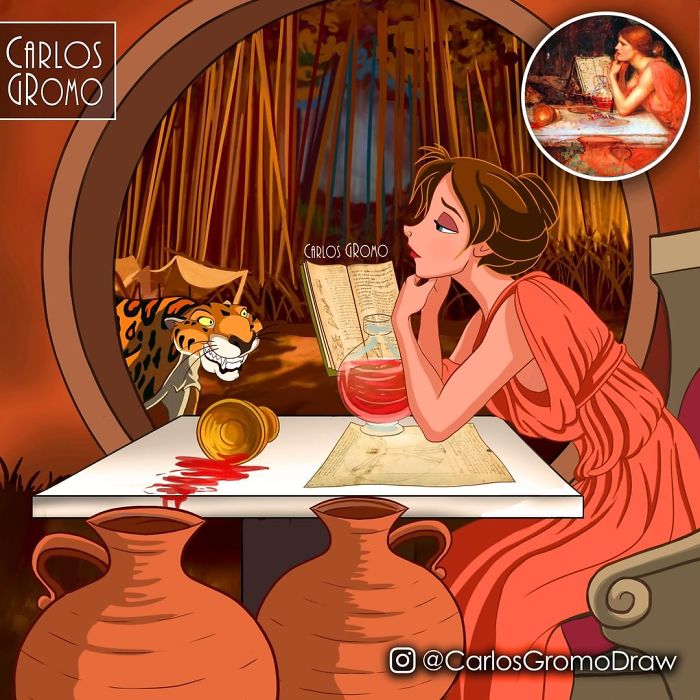 Based on "The Sorceress" by John William Waterhouse (1911)
#17 Sleeping Beauty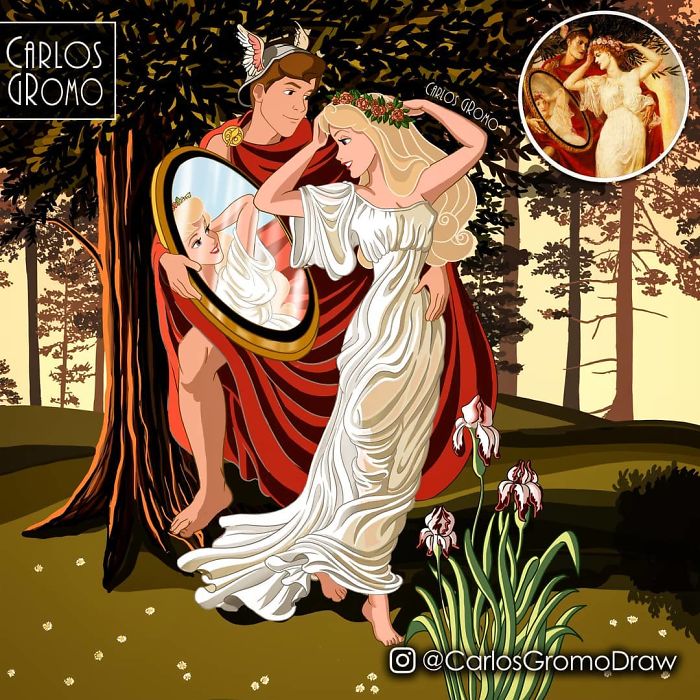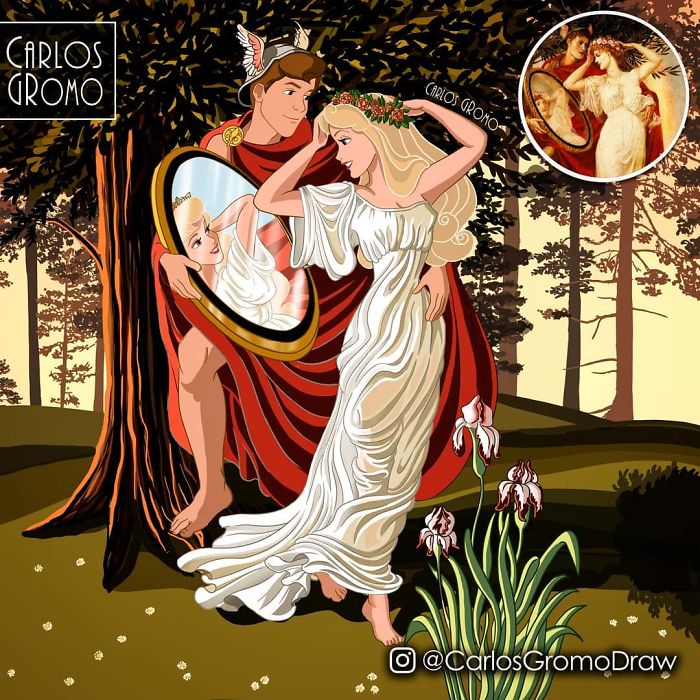 Based on Walter Crane's "Hermes and Venus looking in the mirror" (1885)
#18 Disney family
Based on "A Tale of the Decameron" by William Waterhouse (1916)
#19 The Little Mermaid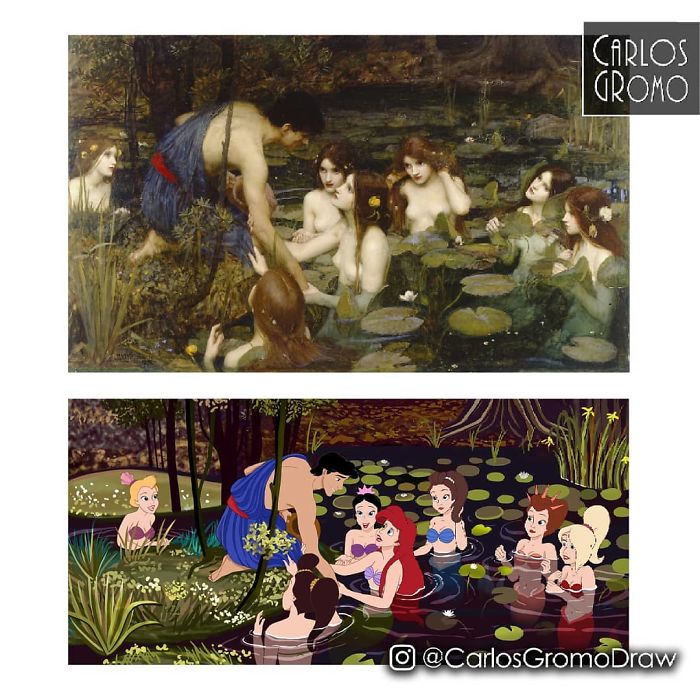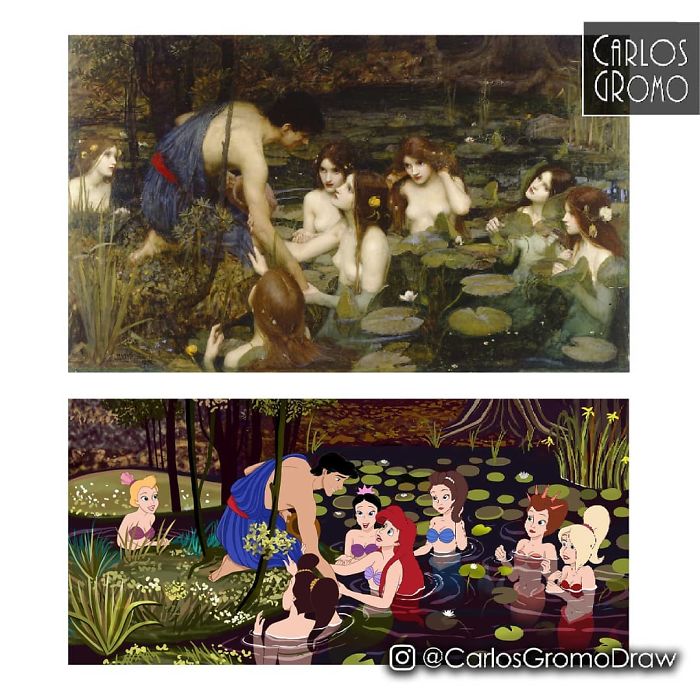 Based on "Hylas and the Nymphs" by John William Waterhouse (1896)
#20 Beauty and the Beast
Based on Gustav Klimt's "The Kiss" (1907)
#21 101 Dalmatians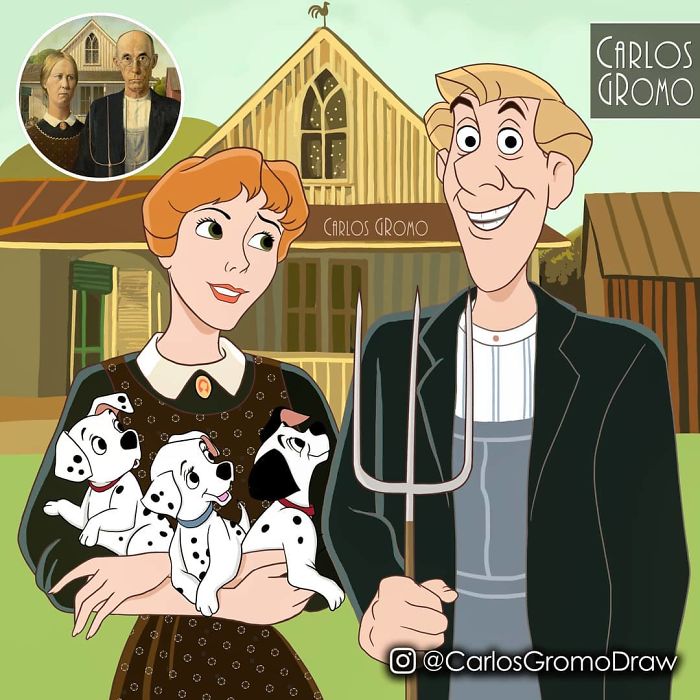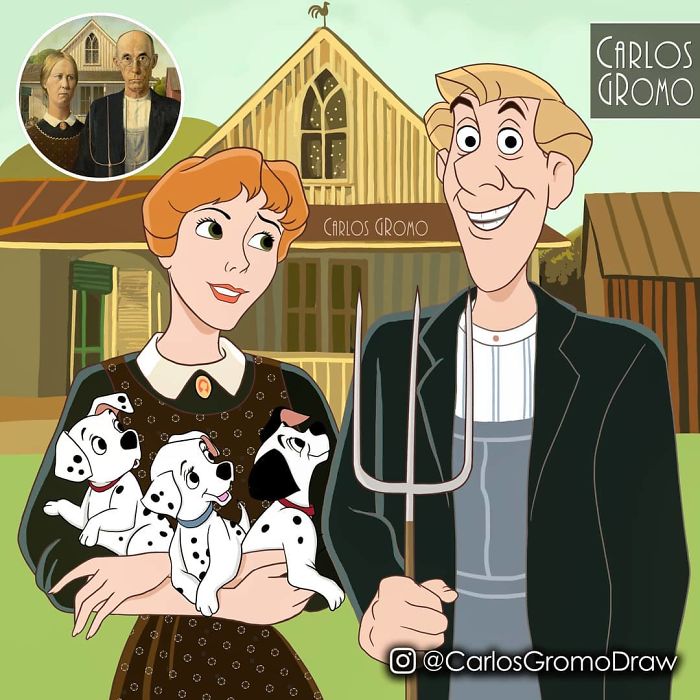 Based on Grant Wood's "American Gothic" (1930)